105DHISTC-FJ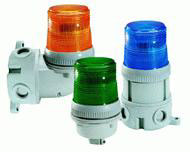 The Edwards 105 Series are heavy duty beacons designed for use in industrial applications where a corrosion resistant Type 4X enclosure is required. The housing is manufactured from glass-reinforced thermoplastic polyester resin and incorporates brass hardware. The double fresnel lens is made of polycarbonate. All light sources are supplied as UL listed component assemblies – ready to be attached to the selected mounting base. The Edwards 105DHISTC-FJ high intensity strobe is designed for use in compatible fire alarm system and other applications requiring electrical supervision of signaling circuit field wiring. All units can be mounted on 3/4" (19mm) NPT conduit using the 105PM attachment. The units can also be surface or wall mounted using the 105BX and 105BM attachments respectively. For indoor applications, may be vertically mounted with lenses facing up or down. For weatherproof installation, it is recommended that the unit be mounted with the lens facing up or with the lens horizontal.
Dimensions and Weight
Length: N/A in.
Width: N/A in.
Height: N/A in.
Shipping Weight: 5 lbs.