NVG Tactical Ballistic Goggles
NVG Tactical Ballistic Goggles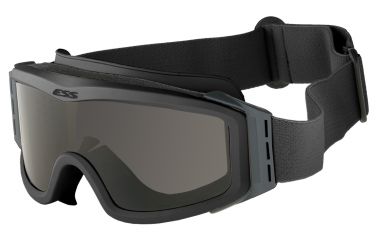 Compact military/tactical goggle system with no compromises. Created with direction from elite U.S. Special Forces groups, it has all the advantages of a low-profile, night-vision-compatible frame, without sacrifices in dust filtration, field of view, impact protection, or anti-fog performance.

The Profile NVG™ features a full-perimeter ventilation and filtration system that minimizes lens fogging and filters airborne particles, dust, and splashes. The durable, smooth frame is easy to clean and conforms to any face shape, while the Outrigger™ Strap System positions the strap for optimal compatibility with helmets:

Includes two 2.8mm high-impact lenses (Clear and Smoke Gray) an anti-reflective SpeedSleeve™, and a rugged protective case. Rx Inserts and Laser Protective Lenses available. All Profile™ lenses provide 100% UVA/UVB Protection.
Dimensions and Weight
Length: in.
Width: in.
Height: in.
Shipping Weight: 4 lbs.