RE24-4500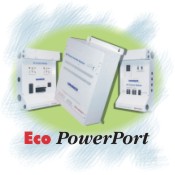 Introducing the "total package" in renewable energy inverter power systems - the Vanner Eco PowerPort (EPP).

Designed specifically for battery based renewable energy applications, the system features the RE24-4500 or RE48-4500 - a single pure sine-wave inverter producing 120/240Vac split-phase output at 4500 continuous watts, eliminating the need for dual inverters.

Optional modules include the RE-DCM, a DC distribution box, and the RE-ACM, an AC distribution panel. These two modules are designed to mate directly to the inverter in any combination, and all feature enclosed wiring raceways to provide a clean installation with a minimum of external conduit.

The RE24-4500 or RE48-4500 also acts as a utility-interactive system and has automatic generator start capability. The inverter meets the rigorous UL 1741 requirements and is independently certified by Underwriters Laboratories.

Using "state-of-the-art" DSP technology, Vanner offers a flexible solution to your renewable energy needs. The heart of the system is the powerful RE-4500 "engine". By adding the ACM and DCM supplementary modules, a high-tech, reliable and robust power solution is now within the affordable reach of the consumer.
Dimensions and Weight
Length: in.
Width: in.
Height: in.
Shipping Weight: lbs.