2RIH1M Stop! Push Button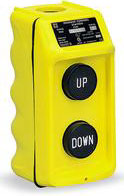 2 Contact Stop Button Rugged industrial for hazard environment, remote features a tiny external antenna allowing 1 Mile+ transmission ranges.

Whether your application requires, Stop Button and secure wireless stop buttons, products for material handling applications like Underground Mining, Processing & Airport Transportation industries. Whether your application requires SPEED MONITORING, REMOTE CONTROLS,
Dimensions and Weight
Length: in.
Width: in.
Height: in.
Shipping Weight: 17 lbs.