Bluetooth wireless Ethernet-capable automation
Bluetooth wireless Ethernet-capable automation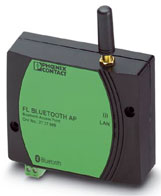 Are you looking for a wireless connection for Ethernet-capable automation components in an Ethernet network Then convince yourself with our Factory Line FL Bluetooth AP module! Since data is forwarded transparent to protocol, both IP and Layer 2 Ethernet protocols such as PROFINET can be transmitted. The sturdy Bluetooth standard is used as wireless technology as it allows stable and reliable communication even under the harshest industrial conditions. Bluetooth also makes it possible to operate a large number of wireless connections locally at the same time and the special coexistence functions mean that it can be operated without interference parallel to WLAN systems in acc. with 802.11 b/g.
Dimensions and Weight
Length: in.
Width: in.
Height: in.
Shipping Weight: 4 lbs.