RAD-CON-MCX-DLOAD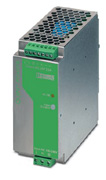 The RAD-CON-MCX-DLOAD is plugged into the antenna port of any Phoenix Contact wireless device to provide a 50 ohm load for the RF amplifier. This load prevents reflected RF energy from reflecting back into the amplifier and damaging it.
Dimensions and Weight
Length: N/A in.
Width: N/A in.
Height: N/A in.
Shipping Weight: 5 lbs.