Visor 12 inch Yellow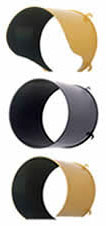 Visors mount with 4 stainless steel screws to the face of the door. "Twist-on type" full circle, tunnel, angle, or cap visors available, as specified. Polycarbonate visors are one piece molded and have twist on attaching ears to match aluminum visors.
Dimensions and Weight
Length: 16 in.
Width: 16 in.
Height: 16 in.
Shipping Weight: 4 lbs.