Security Cover for light poles
Security Cover for light poles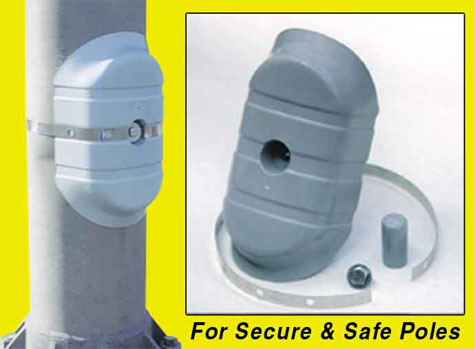 The UNIVERSAL HAND HOLE COVER (OkU-Cover) is a security cover for light poles. The product secures from outside the pole with a stainless steel strap and a penta head security bolt.
Troops and workers can visually detect any tampering from a distance of 30 to 50 yards. The stainless steel strap and penta head bolt prevents any unauthorized tampering. The design prevents slipping from road vibration and securely covers the hand hole.
Roadside bombs (IEDs) are the number one cause of casualties in Iraq both to our troops and the Iraqi people. Insurgents bury bombs in the earth next to a road. A thin wire runs from the device along the ground and into the hand hole of a light pole to tap into the electrical source.
The OkU-COVER will be extremely helpful in preventing injury or possible death to our troops serving in Iraq.
There are many benefits of OkU-Cover:
Easily secured by one person
All parts are reusable
Adapts to different diameter poles to reduce inventory
Adapts to different style and size hand holes
Secures from outside the pole with no exposed metal inside
Extremely durable and water resistant
Vandal resistant penta head security bolt
Provides a quick and efficient Standard Method for field crews
A standard replacement part to reduce inventory items
An excellent light duty assignment that reduces your liability
---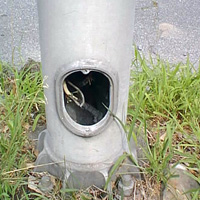 ---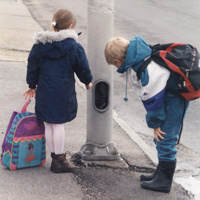 ---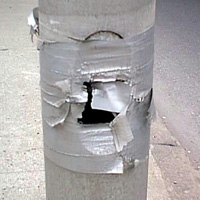 ---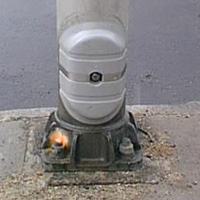 ---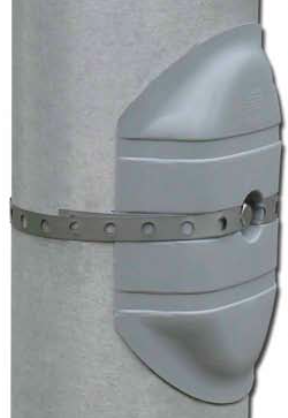 ---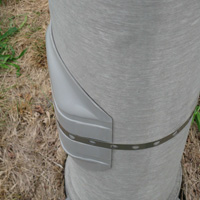 ---
Installations:
Step 1:
Position the IQ-Cover over the hand hole. Hold the cover tight against the pole while you wrap the metal strap around the pole. Position the first hole in the strap so the bolt can pass through it while being screwed into the brass nut of the product.
Step 2:
Pull the metal strap tightly around the pole, leaving as little "play" as possible. Thread the Penta Head Security Bolt through a second hole in the metal strap. Keep the extra length of the metal strap underneath the outer layer so no sharp edges of the strap will be exposed.
Step 3:
Tighten the Penta bolt into the recessed cone of the U-Cover. The head of the bolt will sink into the hole and tighten the strap while pulling the Cover against the pole. Tighten the bolt enough so the cover does not move when bumped by the heel of your hand.
Dimensions and Weight
Length: n/a in.
Width: n/a in.
Height: n/a in.
Shipping Weight: 4 lbs.