Handheld Transmitter and Receiver
Handheld Transmitter and Receiver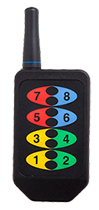 Handheld Transmitter and Receiver Wireless Remote Very High Security with Programmable Outputs and 4 latched relay receiver.
Trigger discrete actions with button presses from up to 700 feet away

Receiver function module provides up to four latched relay outputs capable of switching external AC or DC devices at loads up to 3 amps. External devices attach via heavy-duty quick connects. The antenna rotates to allow adjustment for maximum range.

Dimensions and Weight
Length: 7 in.
Width: 7 in.
Height: 2 in.
Shipping Weight: 4 lbs.