Solar School Zone Speed Limit
Solar School Zone Speed Limit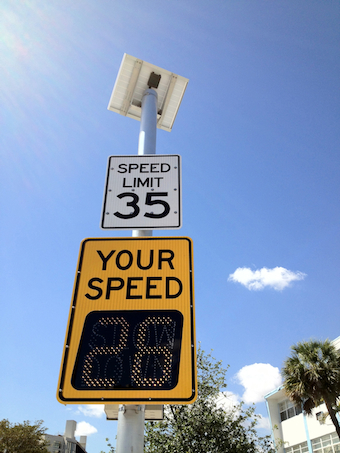 Pole mounted radar displays or speed display | LED Solar Power Radar Speed Sign | Radar Speed Signs Solar Powered | Your Speed Speed Awareness Portable | Solar Speed of vehicles | Solar Radar Speed Signs | Solar Speed Detection Signs | Solar Vehicle Speed Detection | Your Speed Warning Signs solar Powered | Solar Operated Vehicle Speed Detector With Display radar and speed display designed to measure and display the speed of vehicles.
---
Basic System includes
Housing available in yellow, black and green (standard Black).
Led Lamps IQLED, Long Life LEDs last for 100,000 Hours
Meets ITE Chromatic and Visibility Requirements.
Long life, virtually no maintenance.
Solar Panel.
Structure for solar panel.
Pole Top mount.
Adjustable 0-90 horizontal and 360 about pole.
Charge controller.
Batteries: Long-Life - Deep-Cycle - Maintenance-Free.
Note: The batteries are buried at the base of the unit. This is to extend the battery's lifetime, reduce stress on the pole mounting, and helps prevent theft and tampering. This is our recommended setup, but you can also request a pole mounting unit for the batteries that includes a battery enclosure if you prefer (see below item 8266).
---
Specifications:
Miles Per Hour (mph) or Kilometers Per Hour (km/h)
Aluminum protective cover: 0.25" (d)
High-Intensity prismatic reflective sheeting on "YOUR SPEED" signs with black colored text
MUTCD approved colors and format
Operating Temperatures F (C): -40 (-40) to 185 (85)
Conformal coating on all circuit boards
---
Power input:
>Self Contained Solar Powered.
---
Power Efficiency:
Low power SS300 radar drives display eliminate extra CPU.
Built in ambient light sensing and automatic brightness control.
Ambient temperature compensation of LED drive voltage.
High efficiency boost regulator for LED drive voltage.
With no traffic present, radar automatically powers down display, reducing power consumption to 0.1W.
---

Optionals System Configurations (check optionals)

The following options are available for you to configure the system to fit your needs. Just let us know what you need by writing in the 'comments' section at check-out.

---

---

---

---




---

Solar Power unit installation with Battery enclosure:

---

Solar Battery enclosure Packing:

---

OkSolar Systems & Remote Solar Power DC AC

---

---

---

Products Features and Models:

Optional:

High Resolution Weatherproof cctv camera system with IR Night Vision

---

---

Optional:

High Resolution Weatherproof cctv camera system with IR Night Vision

---

Solar Traffic Controls

---
Dimensions and Weight
Length: n/a in.
Width: n/a in.
Height: n/a in.
Shipping Weight: 160 lbs.